Can I buy an electric Volkswagen?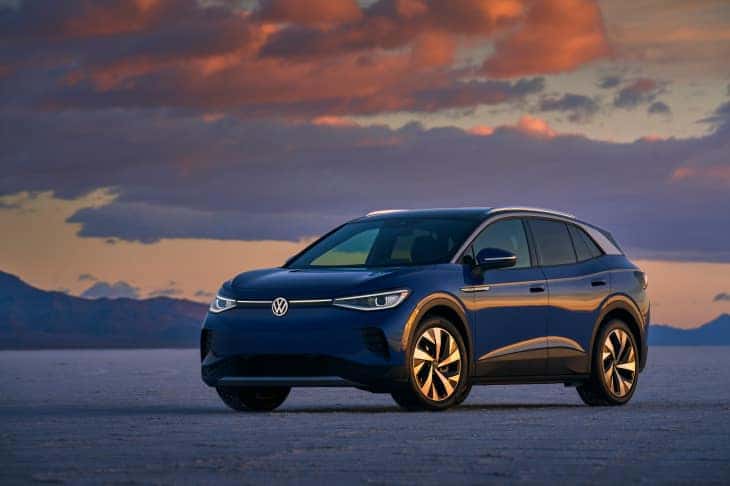 Can I buy an electric Volkswagen? 
Are you asking yourself if you can buy an electric Volkswagen vehicle? Are you considering the purchase of an electric vehicle because you want to experience what it is like to drive an electric car and lower your carbon footprint? At Volkswagen of Newmarket, we have a very large selection of new and pre-owned Volkswagen vehicles that need to be experienced first hand. The Volkswagen ID.4 can be found at Volkswagen of Newmarket when it is released this year. In this article, we share some information about a few of the features of the new Volkswagen ID.4. 
Click here to browse through our selection of Volkswagen vehicles at Volkswagen of Newmarket.
Impressive range 
With an estimated range of up to 400km, The ID.4 gives you enough distance to go from Oshawa to Ottawa, Vancouver to Kelowna, or Montreal to La Malbaie. Plan your road trips accordingly! With fast-charge capability, connecting the ID.4 to a compatible charger can add 200 kilometres to the battery during a road-trip lunch break, or up to 100 kilometres in as little as ten minutes! On a compatible fast charger, shoppers can also recharge from 5 percent to 80 percent in less than 40 minutes.
All-wheel-drive 
The addition of All-Wheel Drive in a typical SUV gives the driver more control. But the ID.4 is anything but typical. Available All-Wheel Drive means getting a second electric motor at the front wheels, giving you quicker acceleration and intelligent handling that distributes all that electric power where it's needed most.
The ID.4 has a close relative: the Volkswagen Beetle! 
The ID.4 has something in common with the original VW Bug: a rear-mounted motor. While the original Bug was a fairly noisy machine, the ID.4 is so quiet it actually uses synthetic noise at lower speeds to make sure it can be heard by nearby pedestrians and cyclists.
Yes, you can buy an electric Volkswagen at our Volkswagen of Newmarket dealership in Newmarket, ON. We encourage you to schedule a test drive on our website and keep your eyes peeled for the release of this high-end electric Volkswagen vehicle in 2021. Additionally, at Pfaff, there's no being handed around, no wondering if you got the best deal, and no haggling price in-person or ever. Just honest customer service that actually serves you, the customer. It's what we like to call: the Idealership. Click here to learn about the Pfaff Difference. 
Click here to find our contact information, schedule a test drive, or speak with a representative.